Meet in the heated indoor pool
There's no doubt about it, water is an essential element in feeling good. Why not take advantage of our aqua gym sessions in the hotel.
Accessible to all, water aerobics gives you a feeling of relaxation and is practised in complete safety in our heated indoor pool. It is ideal for joint or back problems. Please note: please bring your own underwear or swimming costume as swimming shorts are not allowed.
1 year subscription: 45€/month, with more than 20 aquagym classes/week
Giving access to: sauna, hammam, whirlpool
Muscular strengthening, cardiovascular work, flexibility and relaxation.
You will be able to shape your body and improve your physical condition.
Relax gently between visits
The gentle way of life that you discover in our hotel reflects the landscapes of the Loire. Find this gentleness by taking part in our Pilates classes organised in the fitness room. Our qualified trainer will teach you the techniques of this sporting method combining deep breathing exercises and supple movements.
Stretch, relax and tone up during your stay, thanks to the advice of our coach. Because it is for everyone and for all generations, make Pilates the companion of your experience at the Mercure Tours Sud Hotel.
Please note: bring clean sports shoes to practice in the fitness room.
1 year subscription: 35€/month
Access to: cardio, sauna, hammam, bath
bubbling
More than 20 lessons per week.
Strengthening sessions to firm and tone your body, soft gym sessions to work deep muscles, stretching and breathing.
Cardio-training sessions to refine your figure.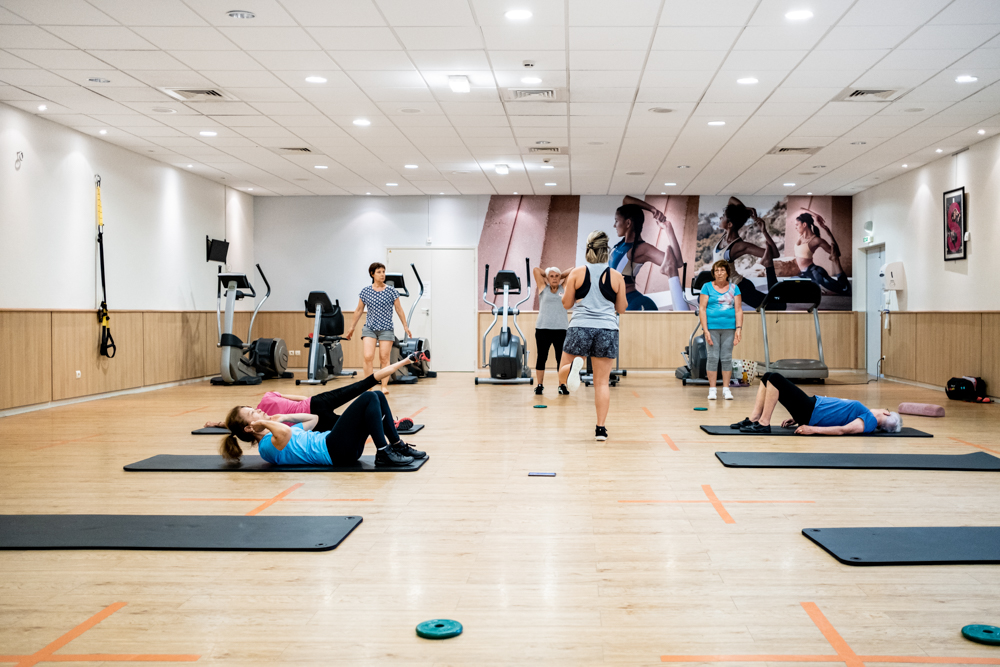 FORMULA Aquagym + Fitness
Take advantage of our classes, with family, friends or alone, to fill up on energy. Forget about tedious exercise sequences and let the music take you there to keep you toned.
One hour of Zumba, Sh'Bam, Dance Aero... is about 500 calories lost and you will also learn to develop your balance and coordinate your movements. Feet, legs, arms, chest and head: all parts of the body have a role to play.
Please note: bring clean sports shoes to practice in the fitness room.
1 year subscription: 49€/month Unlimited aquagym and fitness classes! 
Cardio access, sauna, hammam, whirlpool


Further training in Tours
Laëtitia RIBA offers swimming lessons, by appointment only and in groups of 3 to 4 people maximum. These sessions are given for adults and children.